Hey RC Fans! I'm coming back at ya with more race results. This time, we are taking a look at the 14th Annual Hot Rod Hobbies Shootout that took place this weekend.
The event was once again 3 days with 2 rounds of qualifying on Friday, 2 on Saturday, and triple A mains on Sunday! And it was HOT in California this weekend! It is known for being scorching hot every year, but top racers from all around still make it out for the 3 day event! The competition was fierce this year, and with it being the last big race before the 1/10th scale electric worlds in Finland, the pros were looking forward to sizing up their competition at the race.
Pro-2 short course started off the day yesterday with the first round of the triple a-mains. Jared Tebo lead the first lap and never looked back in A1.  In A2, Tebo raced again with complete domination driving his Kyosho RB-5 SC to the victory and clinching the overall win. Team Losi Racing teammates Mike Truhe and Frank Root had battled  for 2nd place the whole race, swapping positions what seemed like every corner. Truhe and Root had a rough start in A3, but it didn't take them long to work their way back to the front where the rivalry continued. This made for an exciting and entertaining race!

You should all know by now if you read this blog that Ryan Cavalieri is one of my favorite drivers and he made me a little nervous during this race! Yikes! Here's how it went down:
He was TQ in 4wd modified. He lead A1 from the start and it looked like he was cruising to take an easy victory. Then, with a couple of laps to go and a good margin between him and Durango's Ryan Lutz, our guy Ryan went for some conservative lines allowing Lutz to make up some ground. Noooo! With two corners to go, Cavalieri had to dodge a crashed lapper, which put Lutz right on his bumper. What happened next may have been the pass of the year, no joke…
Lutz and Cavalieri were lined up for the last double before the start finish line. Lutz obviously had a bit more momentum from the previous corner and made a perfect jump pass over the top of Cavalieri, hung a left hand turn and took the win! Cavalieri was looking for redemption in A2 but an early mistake let Tebo and Lutz slip by. Cavalieri made quick work of Tebo, then a crash by Lutz put him back a few positions. BUT THEN…it was total domination by Ryan Cavalieri with his B44.1. Tyler Vik had a great run in A3 working his way all the way up to 2nd place from the 6th qualifying position but it was Ryan Cavalieri getting out front and cruising to victory and the over all win in 4wd modified. Good for him
2wd Modified was next and it was built up to be the most exciting class of the weekend. Tebo was TQ but Cavalieri, Evans, and Truhe were never far behind and it looked as though anyone of them could take the title. In A1, we saw a lot of reallyo uncharacteristic mistakes by Jared Tebo and just could not work his way back to the front of the pack.
From the 5th starting position, Cavalieri had a good amount of ground to make up and TLR's Dustin Evans found himself leading  halfway through the race. Truhe lead early for a few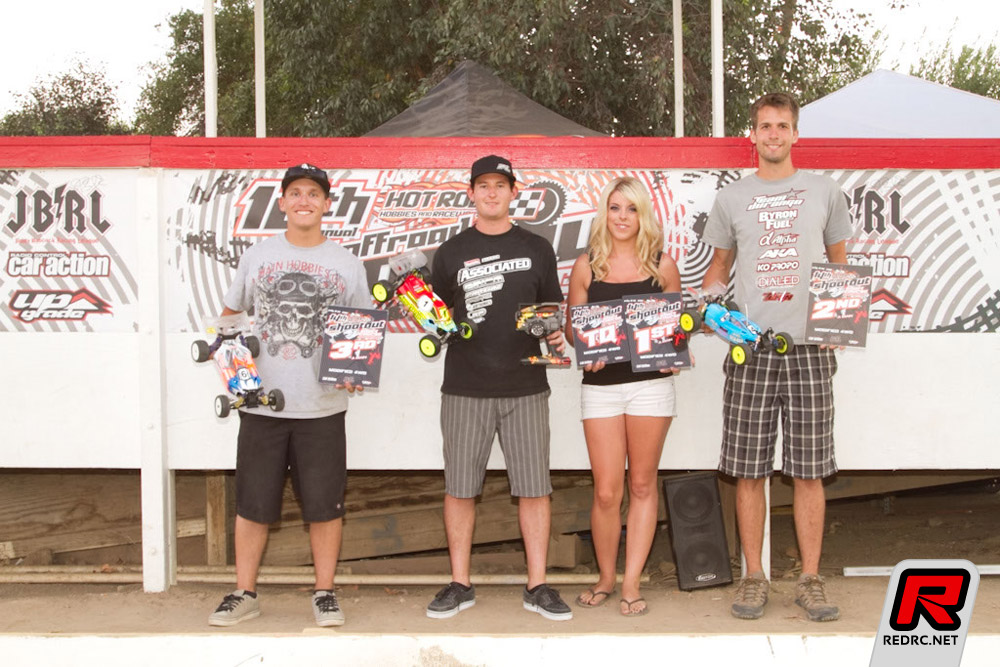 laps but his small mistakes kept him in back of the lead pack. It was a battle to the finish between Cavalieri and Evans but the TLR22 was able to edge out the B4.1 by .3 seconds to hang on for the win. Mike Truhe was looking unstoppable in A2 while Tebo and Evans were doing battle for 2nd. Evans went wheel to wheel with Truhe for last 7 laps only to capitalize on a crash by Truhe on the last lap. Dustin clinched the overall win with that last lap pass. A3 would go to Mike Truhe over Ryan Cavalieri to put TLR 1 and 2 on the podium in 2wd modified.
Pro-4 short was dominated by Team Durango. A1 and A3 were won by Billy Fischer, A2 by Ryan Lutz and Travis Amezcua grabbed a couple 2nd place finishes to stand 3rd on the podium. Fischer took the overall with his two wins and Lutz was 2nd with a 1st and 2nd place finish.
This turned out to be a really exicting race and seems as though the pros had a lot of fun and competition was high.  This is a great event that continues to impress year after year!
Questions or comments? Post them below or head on over to our RC Nightmare Forum and join the convo!